Public spaces have an important role as the perceived centres of settlements and the focus of public life, interaction, activities and events. Public realm; whether it be formal public open space, a street with trees or small informal areas, must provide real meaning and value to the development and wider area. The value of public realm
ultimately depends on the attractiveness and functionality of it. Well designed public realm leads to greater use and custodianship by the local community as well as becoming a desirable place to live
High quality, welcoming and accessible public spaces can provide a shared place that brings people of different ages and backgrounds together. Public space can help to reinforce tolerance, promote social inclusion, create long term successful communities and avoid transient communities often associated with deprived neighbourhoods.
The use of quality street furniture, materials and public art installations all contribute to the value of a place and help secure local identity. When these come together at places of community interaction such as retail hubs, schools and play spaces they can combine to great effect. If areas are meaningless, badly located or poorly executed they are less likely to encourage use. Unusable, strips of land or awkward spaces left over between dwellings do not contribute to the attractiveness or value of a place and are often costly to maintain leaving a lasting legacy of neglect and declining value. Such spaces will not be acceptable.
Multifunctional use of public realm can provide great benefits ranging from the economic and aesthetic value of attractive areas and streets, to the natural, ecological, physical and mental health benefits that such well-designed spaces and green infrastructure corridors can provide.
The amount and the type of open space provision will be related to the scale and design of the development. The nature of the surroundings, including existing open space, will also be an important consideration. Features within the site should be exploited to the full in setting out open space. For example planted areas or balancing ponds, whilst not part of the useable recreational area, could be integrated by providing a footpath and/or seating alongside.
Key Considerations
The best public spaces are those that do not try too hard. Overdesign is a frequent and fatal flaw. Think about how people will want to use the space and ensure that this is the starting point for any design, rather than trying to make a statement or make a design different for its own sake.
Seats with backs are essential for the comfort of older users of public space. Make sure there are enough seats in spots people will want to wait and linger. As well as more formal seating, good design should incorporate informal seating spots.
Design permissive spaces that encourage positive uses of all types, rather than restrictive space that seek to limit use. Do not rely on barriers, signs or other hardware to curate spaces.
Think about what space will be like in differing conditions and seasons trying to ensure that there is something to sustain its character and quality all year round. This might mean ensuring that lighting and the uses of the buildings help to bring the place alive and give it purpose when the weather is bad.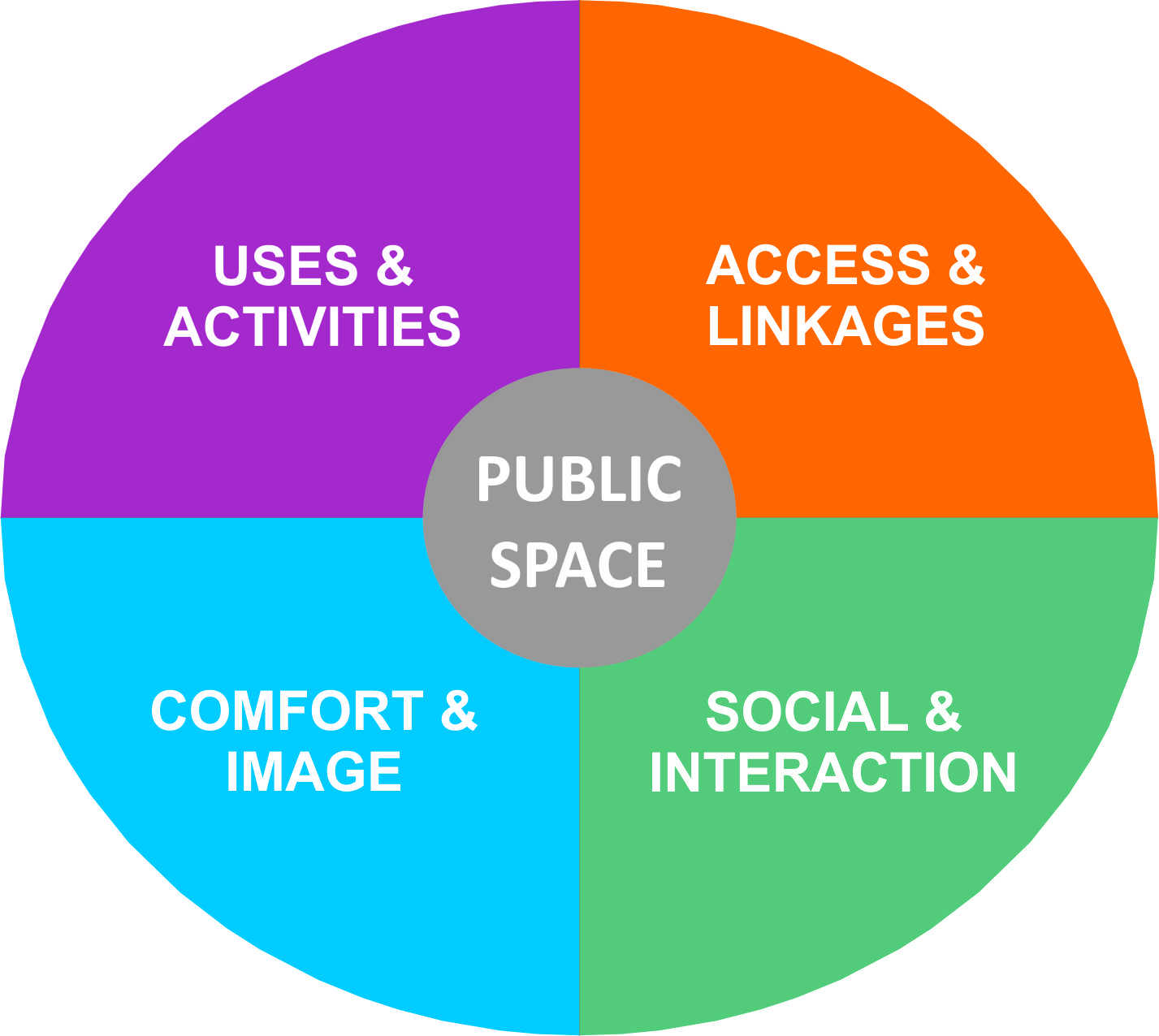 Open space is best when linked or combined in one location, combining both space for informal recreation and children's play areas. This enables children to have a range of play experiences in one location, enables appropriate landscaping to be incorporated and ensures scope for adapting the open space as needs change over time. Isolated areas of open space should be avoided, particularly where they will be obscured from public view or will be surrounded by rear gardens.
In addition to children's play the needs of adults and older people should be considered. Features such as communal gardens or 'pocket parks', allotments and outdoor gym areas could be provided for residents.
The landscaping of open space should be considered integrally with the landscaping proposals for the development as a whole. Landscaping and planting should encourage biodiversity wherever possible. Shrub types and the siting of trees should be chosen with care to ensure that when planting has become established, it will not obscure a clear view of any recreational areas from adjoining dwellings, footpaths and estate roads. Whilst, every public space will be unique, the following points highlight some important considerations for designers:
How public spaces are clearly delineated from private ones so that they feel, and are, publicly accessible
How the uses surrounding public spaces contribute to creating engaging places for users.
How spaces can be made more meaningful through the amenities and features they host.
How the opportunity is taken to maximise the potential for a positive social environment.
How balance between all users of public space is managed and safeguarded.
How resilient public spaces are through their ability to adapt to changing demands across time, while remaining distinctive.