The Guide has been prepared for use by a range of different individuals and groups all involved in the development process; these could include:
Home owners or planning applicants
Those seeking to make improvements to their homes or business premises.
Councillors
Elected Members involved in making decisions regarding development proposals.
Developers and landowners
Companies, corporations or individuals seeking to develop one or more buildings for profit.
Local residents
Those who are concerned about or interested in development proposals in their neighbourhood.
Professionals
Local authority officers, architects and agents working on behalf of their customers or clients.
Other Statutory Authorities and Organisations
Bodies which can offer additional advice or key consultees on particular applications, these might include:
Natural England: Landscape, Green Infrastructure and Biodiversity.
Historic England: Heritage Assets.
Environment Agency: Flooding, Rivers and Pollution.
Norfolk County Council: Leading Local Flood Authority and SuDs Authority.
Utility Companies.
Norfolk County Council Highways.
Town and Parish Councils.
Conservation Advisory Group, Friends Groups and Amenity Societies.
Neighbourhood Planning Forums.
Sport England Authority.
In a planning context, it is likely that a variety of professionals and other interested parties will be involved in the design of a scheme - how it is conceived, developed, amended and finally built. It is important to consider the different processes related to design, who uses each and how they intertwine.
There are loosely six milestones involved in the planning process and design should be a key consideration at each of these stages:
Stage 1 - Creation of brief, concept and initial proposal
Stage 2 - Pre-application advice and community engagement
Stage 3 - Full planning application submission
Stage 4 - Planning Decision and Determination
Stage 5 - Discharge of Condition
Stage 6 - Construction on site
The table below shows the individual considerations of each design professional and how they align into these stages.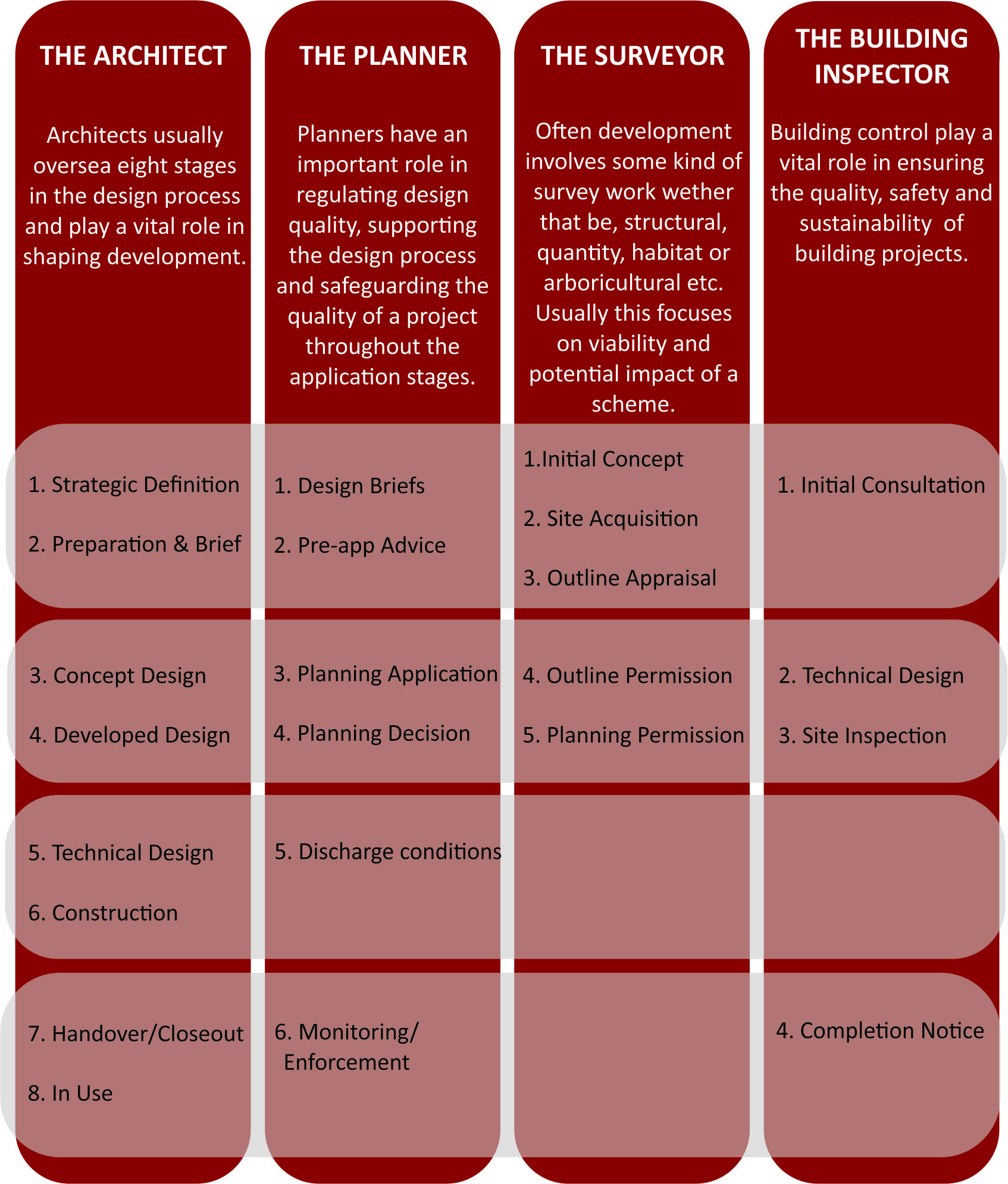 The table below sets out the expected approach of each party involved in the design process and highlights the role and contribution they make.